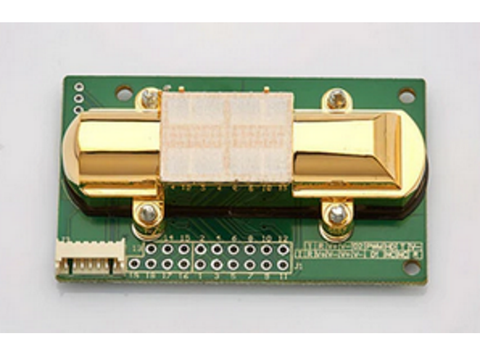 Carbon Dioxide Sensor - Winsen MH-Z14A
The MH-Z14A from Winsen is a relatively small size sensor which uses non-dispersive infrared (NDIR) principle to detect the existence of CO₂ in the air, with good selectivity, non-oxygen dependence and long life.
This measures real CO₂ levels, rather than some other sensors which measure eCO₂ or 'equivalent' CO₂ level calculated by estimation from the VOC (Volatile Organic Compounds). While eCO₂ can give a good indication of CO₂, they can be affected by other volatile gasses.
It has built-in temperature sensor for temperature compensation and it has digital output and analog voltage output. This sensor has a UART (serial) connectivity, so it is easy to interface to your Arduino or RPi projects.

High sensitivity, High resolution

Low power consumption

Output modes: UART, analog voltage signal, PWM wave 

Quick response

Temperature compensation, excellent linear output                        

Good stability

Long lifespan

Anti-water vapor interference
MH-Z14 NDIR Infrared gas module is useful for indoor air quality monitoring, safety and protection monitoring and agriculture applications.

We use this sensor in our CO₂ Monitor kit!
Technical data sheet is available here.
Technical parameters are available here:
---
We Also Recommend